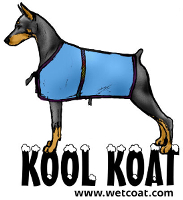 Now Available Custom Matching
Designer Wet Coat & Totie
(Toties by Cheri McNealy the famous Queen of Toties)
Below is a sample of the first matching set.
It is proudly owned by Susan VanOrman Claggett
In the picture pocket is a photo of her Pretty Red Girl Sizzle
(Click on pictures to enlarge)
Tired of the same old gifts?
How about something beyond special and unique.....
the one-of-a-kind ensemble....made to order!
Celebrate your Top 20 Status!
The Ultimate "Special" Gift for your Dog Friends.
Each Ensemble is Different so the Price varies.
Please use the contact information below to ask for a quote.
You can view more of Cheri's creations by visiting her web site from our links page.
To order a custom combo or totie contact:
Toties by Cheri
Cheri McNealy: ccandid@sbcglobal.net