Monty sporting his new Batman black spandex designer kool koat.
Monty is one serious nose working dobe.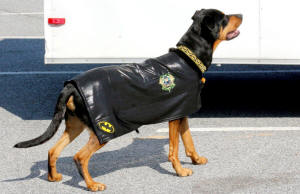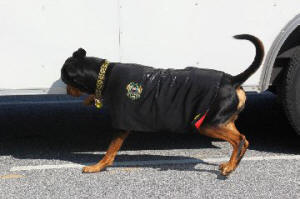 Hi Sandy-
Here is a photo of Asmara modeling her new Kool Koat. :) She loves it (and so do I).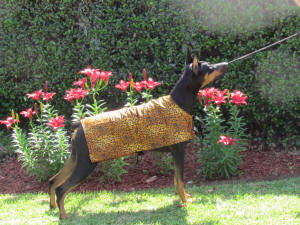 Received these photos from Zelda saying "Kiss & Wally Love their Kool Koats"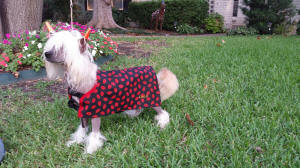 UKC CH ADORATOR KISS JR PRETENSJA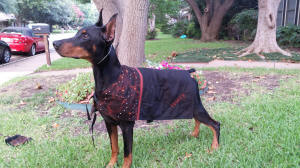 UWP UCA UWRO1 AKC/UKC/INTL CH AQUARIUS WALLY WORLD v SANDIA RN BN CA DS DM PCD ATT WAC CGCA THDN
Oliver loves his new cooling jacket! Thanks! L.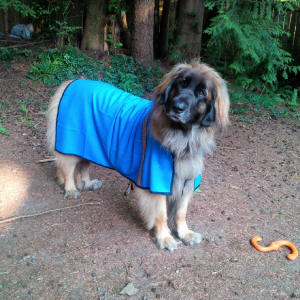 Sandy, here are the pics of my Aussie friends Dobes in Kool Koats.
Diesel in blue and Axel in the red. Sue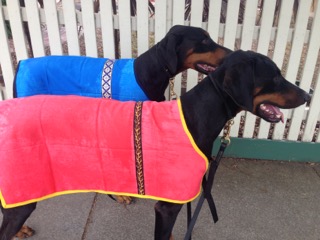 My name is Bree,
I'm a dog show and I love always to use my kool koat when is sunny day on the shows
because in Colombia have a tropical weather!!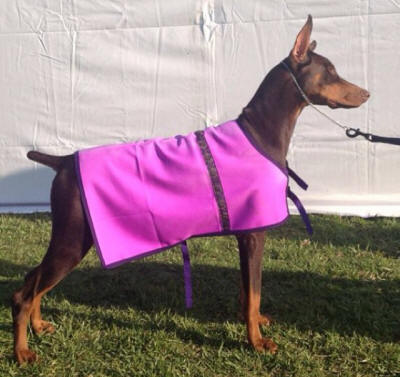 I was the #1 dobermann in 2013 here in Colombia South America
and the others dogs were jealous when I wear my purple kool koat.
Thanks for make my temperature better, u are great!!
Tongues and kisses,
ChCo. JoCh Terrasante Breevandekamp aka Bree
Breeder : Terrasanta Kennel (Venezuela) - Giuseppe Gueccia
Owner: Giuseppe Gueccia and Jorge Restrepo
Medellin - Colombia - South America
Kind Regards
Jorge Restrepo
Criadero Resdobe´s
Three agility dogs "chilling" out after their runs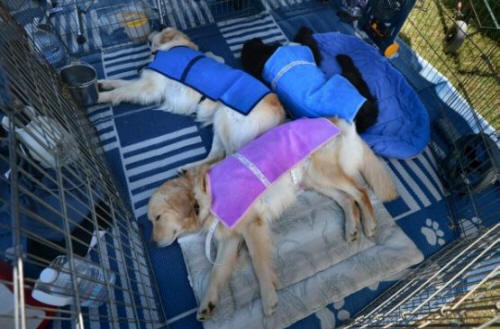 Libertty Belle aka Cam

Cam's Mom sent the following note:
Sandy -
Thank you so much for sending out Cam's new coat so quickly.
I was so happy when I got home from work and saw it was here.
It was very hot tonight so she got to wear it for class.
She got lots of compliments and I wouldn't be surprised if you
don't get a couple of more orders!!!!
The coat definitely kept her cool as she had more energy tonight
and was able to work a lot more than on Tuesday morning.
I wanted to get you a couple of pictures tonight.
They are not the best as all she wanted when we got home was to EAT!!!!
We really love it and the flag and fireworks are perfect.
I'm so happy knowing that when it is hot out, she will be cool.
That is very important to me and I say a big thank you to you!
Take care,
Holly and Cam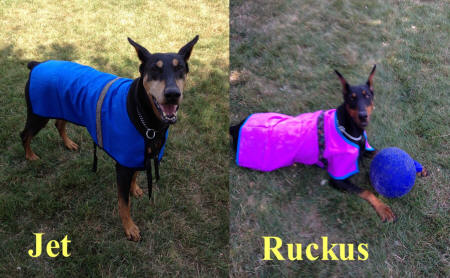 Received the following message from the Mom of Jet and Ruckus:
Sandy,
Just wanted you to know we love our coats!
After all the worry about what size, they fit great.
My friend will be ordering one soon.
Barb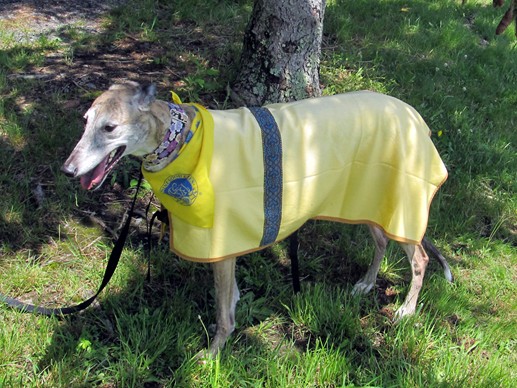 Hi Sandy - today was the Whisker Walk and Phoenix's first opportunity to try out her new Kool Koat. Out of several hundred dogs (at least) at this event she was the only dog with a Kool Koat.
We were approached by MANY owners - all very interested.
I did share your website with many - hoping you get some orders.
Greyhound owners were very interested because their greys have the same over heating
problem that my grey has, and the fact that you could custom tailor
the coat to fit the long bodies of a grey.
Phoenix was cool as a cucumber - stayed very comfortable!
I wet her down a couple of times through the afternoon and she did great!
There is no place I won't be able to take her with me this summer :)
I've attached a picture of my girl "styling in comfort".
Thanks for such an awesome product!
Leeann and Phoenix (6 year old rescue greyhound)
Doing K9 Nose Work® in the heat is possible when you wear a Kool Koat!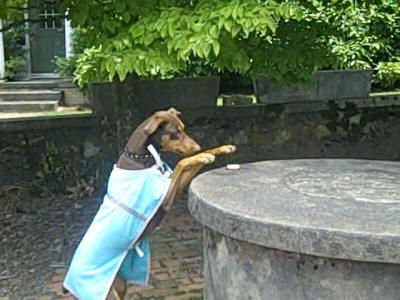 Parker Finding the tin with the odor on a hot day
Go Parker & Christy!
http://dobetalk.posterous.com/
Lucy is one cool lady!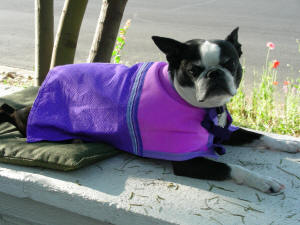 Lucy's Mom sent this note with her picture:
Lucy looks great in her new Kool Koat and really enjoys wearing it.
The summer temps in Phoenix can be very tough on a dog,
especially a Boston, but this keeps her cool and stylish.
She can even wear it when she runs to chase the ball and is completely comfortable.
The XS fits just right (she is 20 lbs). Thanks for a great product. Shelly
CH. Alpha's Weekend Warrior
"Dalia" Sporting her DPCA Top 20 Kool Koat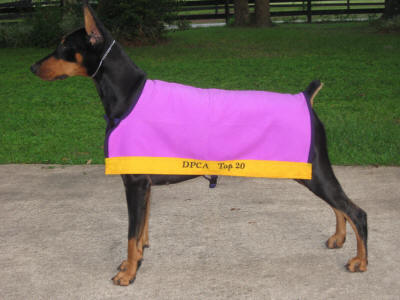 Breeder Owner Handled by Susanne Smith "Alpha Dobermans"
Tie-Dye Fever in AZ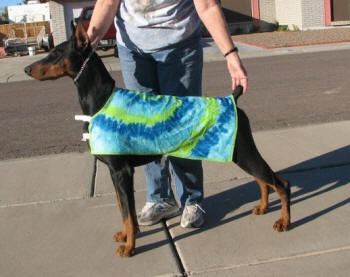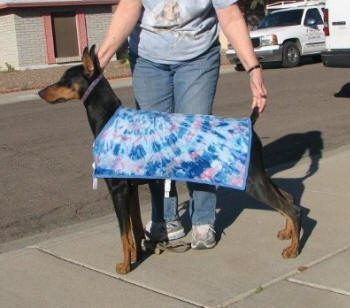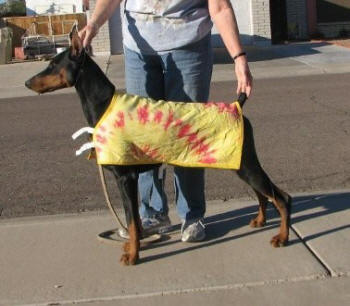 Mr. Big of Rosewater Labadors Miami, FL in
his New York Skyline Kool Koat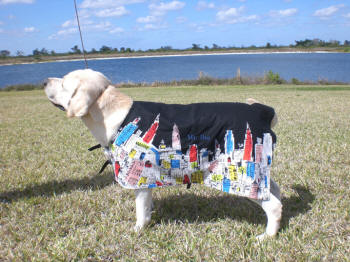 (click on picture to see full size)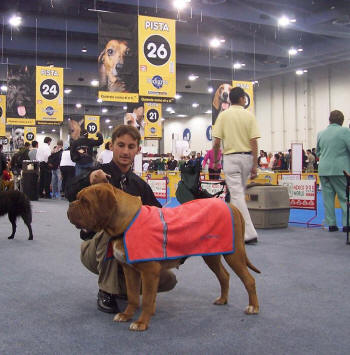 Hello Sandy,
Thank you for sending me the Kool Koat in such short notice in may of 07.
Well we did travel to The World Dog Show in Mexico where Zuka
place all 4 days and got a reserve Female.
Thank you for your help.
Thiago
"Mac"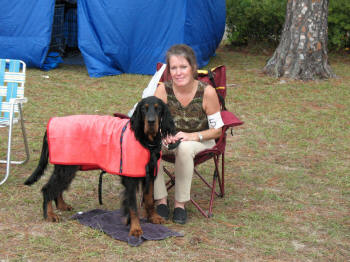 Hey Sandy!
I just wanted to tell you how much Mac LOVES the Kool Koat!
He has finally grown into it and used it recently for his first show and for his first hunt test –
black dogs get especially hot and this wetcoat is just perfect.
We used the Kool Chamois Pad as his "coat" while he was small,
and now can use it to stand on or to wrap on his head and neck in extreme weather.
Doesn't he look great! (And Kool!)
By the way, you should soon be hearing from his friends in Tallahassee,
Joseph the Cavalier King Charles Spaniel and
Ramses the Ibizan Hound they want a Koat like Mac's.
"Mac" Seasac's Cruising Down the Highway
Patricia
"Woody"
BISS Am/ BISS BIS Can CH Marksman's Navajo Dreamcatcher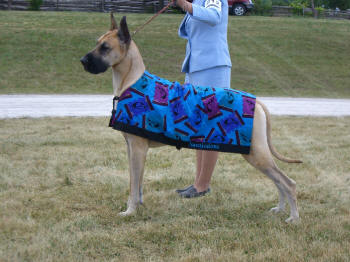 I'm sorry I've been so remiss in getting this photo to you.
Things have been crazy here, but here is the photo as I promised, albeit a little late.
I LOVE it, Woody hates it! <G> But I don't know of a dane yet that likes these coats.
Woody's first weekend out with it garnered a lot of attention,
I even had a woman chase us down because she wanted to see it. <G>
Thanks again Sandy, we're taking good care of it.
Navajodanes
Deb & Walt Lileikis
Vaako
Vaako is owned and Loved by Cheryl Burgess
Joey Bag O Donuts looks great in his new wet coat.
Thank you so much!!
Smooch did not want to model for us tonight.
Still cold up North... LOL
Bean's Mom sent this note and picture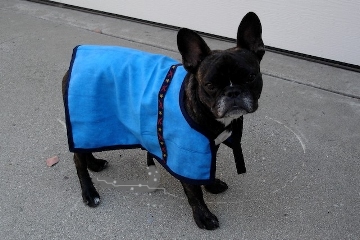 Sandy,
I just wanted to write to express my happiness with the speed and quality of the kool coat
just received in the mail today. That was so FAST!
I was hoping to have it in time for our road trip for the 4th of July
and shocked when I opened it only a few days after my order.
I was also a little worried I may have measured incorrectly
but it fits our little Frenchie *perfectly*. I'm so pleased and really love the little airplanes.
Thank you so much and you can be sure I'll tell all my friends!
This is Diva Midge a French Bull Dog who has a wardrobe of Designer coats.
Her Mom Kristin Moon say's Midge just Loves her coats.
She always the coolest dog at the dog park, we have to find dark
colors for Midge as she Loves to roll on the ground.
This Happy Family lives in Camarillo, CA
Midge has a new sister as a baby "Barbie" she is wearing
a regular Kool Koat Chihuahua size.....
Her Mom sent a note along with the picture.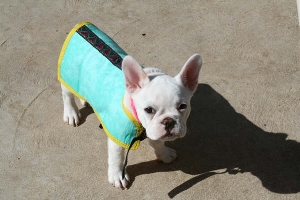 Hi Sandy,

The kool koat arrived yesterday, and I'm SO pleased that it
fits Barbie perfectly! I thought you might enjoy a few pics of her in it...

Kristin Moon

Ruby's picture arrived with the note below.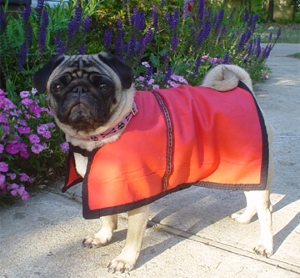 Here's a picture of Ruby in her new Kool Koat.
She wore it at a show and go last weekend,
and her Kool Koat kept her cool and comfortable.
I am so happy I purchased this for her.
Thanks for making a great product. Ruby loves it!
Hi, Sandy.
You asked for pictures when I bought the Kool Koats for Jubilee and Fiesta
a year or so ago. I haven't used Fiesta's much and not when the
camera was handy, but this past weekend my daughter and I attended
a freestyle festival in VA and I remembered to take Jubilee's picture.
Jubilee is owned and loved by Sarah Stoodley.
Photos by Judith Stoodley.
Jubilee in her Disco Frog Coat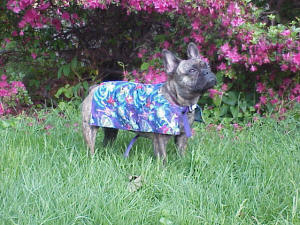 Pearl's Mom Betsy sent this note with this picture.
I was able to take Pearl to the beach at noon and she stayed
cool because of her beautiful flamingo Kool Koat.
Thank you for making this great product.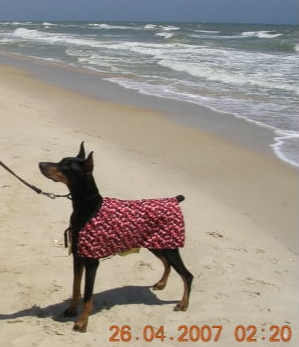 Electra's Tennessee Pearl
Minnie a 4 year old black Newfoundland
from Auckland, New Zealand,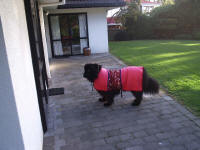 Dear Sandy,
I'm sorry this has taken so long but have been having camera and computer
problems. I hope this photo is OK, but if you would like others I would be
more than happy to send you some others. We are finding the coat very good
and Minnie wears it when she visits old age homes where even in reasonably
hot weather the oldies have their heaters on. In this situation the Kool
Coat is a life saver, as previously she would arrive home absolutely
exhausted whereas she now keeps nice and fresh.
Kind regards,
Bernard Jolson.
CH. Dreamseekers Wizard
"Ozzie"
Loved by Kathy Ferguson (Canada)
"Levi"
Ch. Alpha's Fun & Games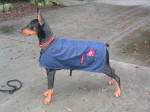 Bred by Alpha Dobermans
Loved by Tracie Johnson (FL)
"Penny"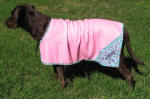 MACH2 Auburn's Penelope Ann CD
"Kande"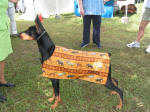 Loved by Mintie Myers (FL)
"California Agility Diva"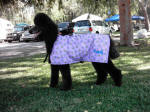 Fayth"s Mom Cindy Parish
say's the Designer Wet Coat keeps her cool at the shows
CH Kroepel's Black Comet
photo provided by his owner Linda.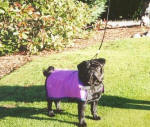 Jenson Dream Catcher ET WAC
Casey from Down Under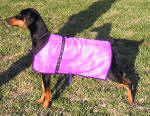 Photos from Diane Webb.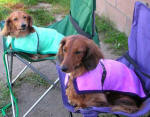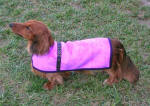 Am. Int. CH Waters Edge Fast -N- Furious
Showing off her "Read My Lips" Designer Wet Coat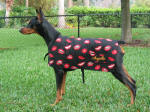 Multiple CH. Katch 22 Quantico of Blueskies
and Dazzling Rena's Reign of Blue.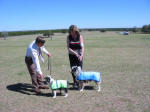 Patrick in his Kool Koat
Photo from Helen Connolly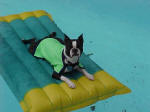 This is Rocky he is a Pomeranian/German Spitz
agility dog owned by George Selekman of Virginia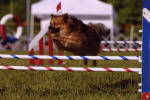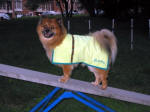 What cute Labradoodles!
Photo's submitted by Marcia Mobley
Mrs. Beasley in her "Doodle" coat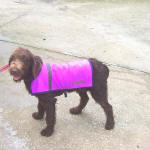 Katie & Samantha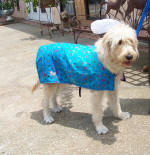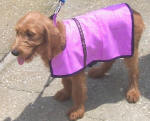 Your Kool Koat was a god-send to Gracie! Our Pennsylvania summer has been unbelievable with temps in the 90's with high humidity!
Thank goodness for this amazing product. The quality of workmanship was excellent and the color combined with the elegant ribbon trim was is a classy touch! Your prompt delivery was so appreciated by me but that didn't even come close to how our Gracie welcomed her Kool Koat. After a thorough sniff, she welcomed the cool, comfortable feeling that came over her. Now, when she wears it she becomes our Kool Koat Queen!
If not for this coat, our vacation to the North Carolina shore would have not been as pleasurable.
We could walk Grace every day when the heat was oppressive and she would be cool, calm and collected! I can't tell you how many people would stop and ask about your product. They told me that their dogs can never go out during the day because of the heat. When seeing Grace with her coat, they were surprised and delighted to find out about Kool Koats.
We are back home now and our Pennsylvania weather continues to be hot. Grace wears this coat around the house on those days. All she needs do is see me pull the coat out and her entire body goes into a wiggle. Truthfully, I have been so hot myself that I wish they came in ADULT versions....
It is such a wonderful feeling to know that I have done something for my girl who gives so much but never asks for anything in return. I have you to thank for that.
Attached is a photograph of Gracie on Sunset Beach modeling her Kool Koat. As you can see, she is loving it.
So THANK YOU for your AMAZING KOOL KOAT from our AMAZING GRACE.
Yours truly,
Judy Humphrey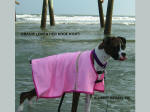 This is dhanpal from India he sent this message after he received his Kool Koat.
hi,
dhanpal from india thanks a lot for sending the
koolkoat to india..the product is very good
excellent..many have asked the kool koat in india i
have given ur website address & ur name..please u
should also help them,...thanks a
lot,,,,,bye...dhanpal form india (bangalore)
Gypsy Queen Cooling off after her afternoon workout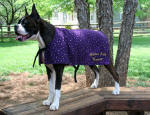 She is owned and Loved by Gaspar of Golden Silk Boxers Charlotte, NC
I Love this Bitches Name "Reggie Ann"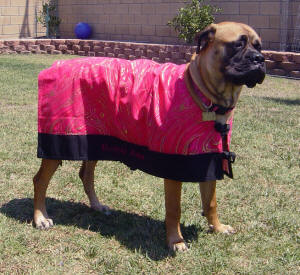 You can see Reggie Ann's coat on the Sample Picture Page
Her Mom sent along this note:
Hi Sandy,
Here you go - I actually took some better shots in the house where her name came out
clearer but I thought you might prefer one outside since that's where she'll will be wearing it.
It's just a tad big on her but that was on purpose to give her a tad more to grow but
even if she doesn't end up growing even a tad, it still works perfectly for the job.
Thanks so much,
Robyn
Can you say Pirate!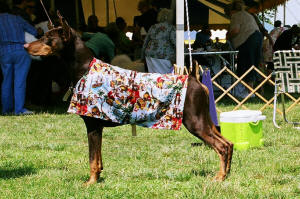 This is Captain Jack in his Pirate Coat
His Mom Allison sent us this picture.
This is one of those coats you need to see in person.
"Poogie on Fire"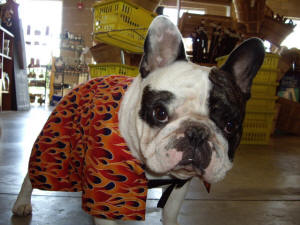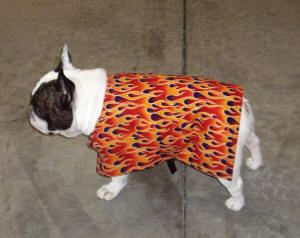 This is Poogie, one of the Mascot's at Scraps Dog Company
His Mom Naniece owner of Scraps sent us these pictures.
Rommel and Sweetums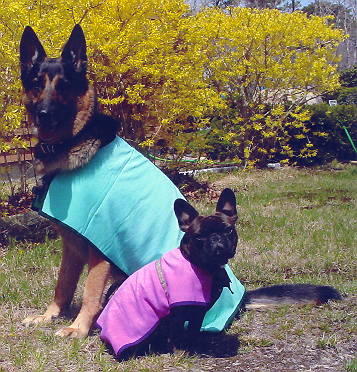 Hi Sandy!

Just to let you know that both kool koats for my frenchies arrived, and they are a perfect fit.
Thank you for the T Shirt and bumper sticker as well. Here is an attachment of two of my gang (Rommel the German Shepherd and Sweetums the French Bulldog) with their koats from a
past order. When the sun comes out again I'll send you a picture of the frenchies in the
new koats you just made/sent to us. Thanks again.

Bronwyn
http://www.sweetumscapecod.com
I received the Kool Koat but only got to use it this weekend.
I have to say it looks AMAZING :) I've been getting lots of compliments,
well my frenchie has been.
I am attaching a few pictures of him (name is Lego).
Next weekend we have a big public dog event.
My frenchie and the english bulldog will be wearing their coats :).
(the english bulldog hasn't tried his yet)
Thank you for the beautiful work placing the logos and selecting the trims :)
If more of my members are interested, I'll let you know!
click on the dog to visit K9 Training Lab's web store
Sandy,
I can't tell you how wonderful the Kool Koats were on Emilie and Garrison...
and how many people wanted to buy them from us - straight off my dogs' backs!
attached are a couple photos of our booth and Emilie and Garrison sporting
their Sportz Dawgz Kool Koats!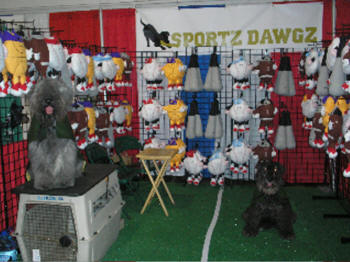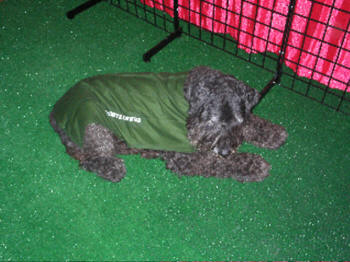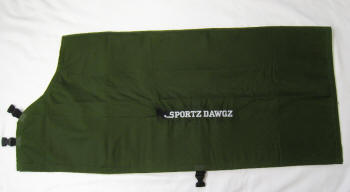 Katie in her Century of Devotion Kool Koat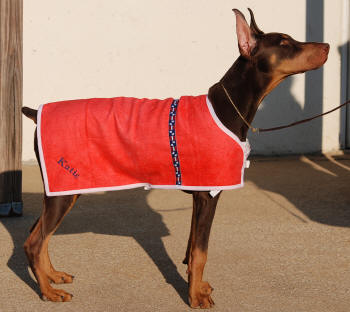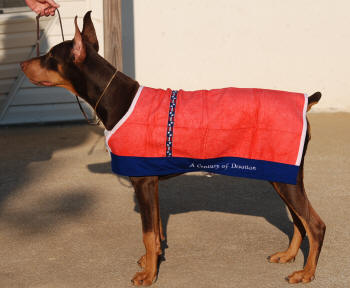 Piper being "Kool"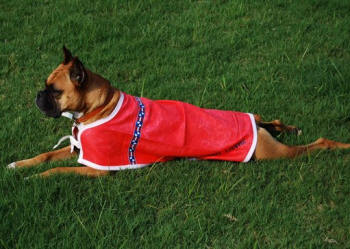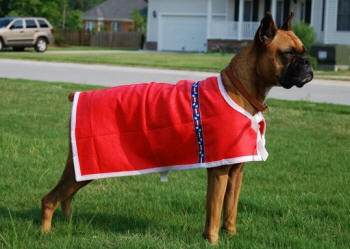 Brutus and Maverick keep cool on the boat!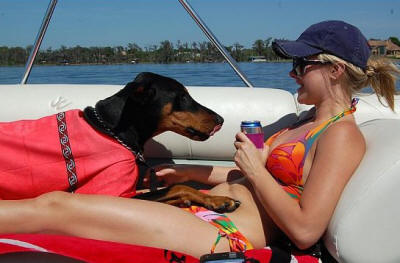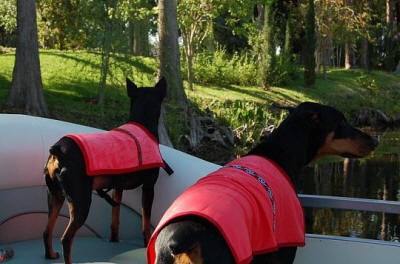 The kool koats are amazing!
They fit Maggie and Jack perfectly and keep them cool in the summer heat and humidity.
We have recommended them to many of our canine friends. Thanks so much!
Nancy Clarke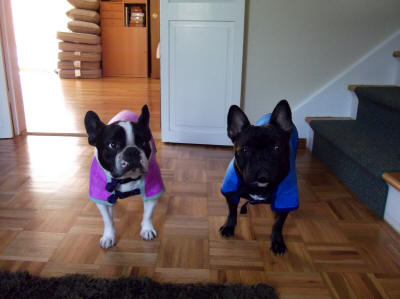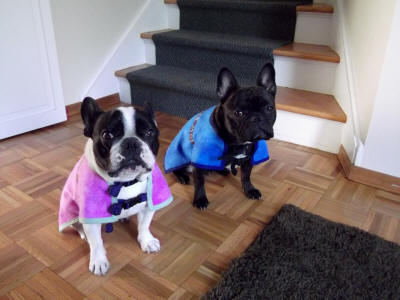 Email a photo of your dog to be included in our "Star Gallery" to wetcoat@pettemp.com