"Original PVA Chamois Wet Coats for Dogs"
Learn how the coats work to cool your dog &
How to Measure your dog at bottom of this page.
Kool Koats are made from PVA chamois, decorative trims are applied
down the back or across the shoulders, there is edge trim along the outside
edge of the coat this trim may match or contrast the color of the coat,
there is a belly and two front buckles for closure.
Two Standard Sizes stocked, these coats can be purchased on this page.
WE NO LONGER SHIP OUTSIDE OF THE USA
"Available Kool Koat & Kool Pad Chamois Color"
Blue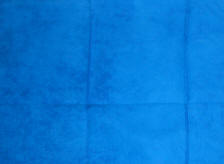 Trims colors vary from coat to coat if you have a preference please email us prior to purchase
*Whole Dog Journal 2014 Top Gear*

Kool Pad

Kool Chamois Pad with edge trim

size 17" X 27"

$20.00
Medium size (A) 23" X (B) 12.75"

$60.00

fits most Boxers, Dobe Females,

Springer's & breeds of similar size
Large size (A) 24" X (B) 13.75"

$60.00

fits most Dobe Males &

breeds of similar size
Have a question Email Sandy
We have limited quantity of Purple or Red Chamois.
If you'd like one of these colors; order Blue and Email Sandy
immediately after placing your order so we can change your order.
wetcoat@pettemp.com